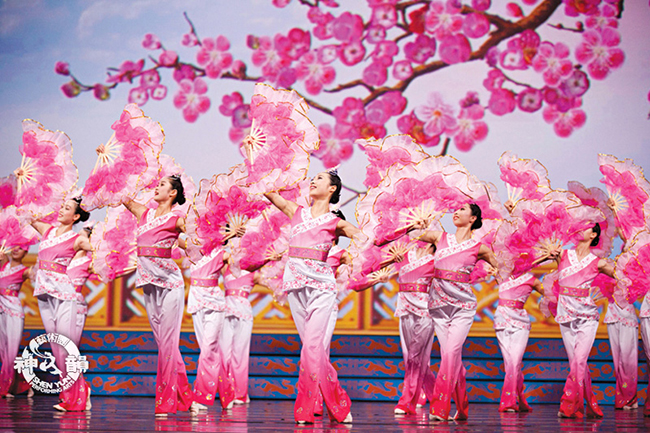 Kekuatan Kelopak
Over the years, Shen Yun performances have taken us and the audience through endless vistas of Chinese civilization. But be it in ancient courtyards or heavenly realms, sometimes our pieces revolve around a simple theme: flowers.
The language of flowers spoke deeply in ancient China, with flower imagery appearing as common motifs in works of art, literature, and speech. Despite their prevalence, the meaning behind each bloom remains a profound and highly respected part of Chinese culture. Here are some that have taken to the Shen Yun stage the last few years:
Plum Blossom
With its delicate pink petals, the humble plum blossom can easily be mistaken for its cousin, the cherry blossom that blooms in spring. But the plum blossom blooms in mid-winter. Amidst frost and snow, its bright and hardy blossoms are an inspiring sight, symbolizing perseverance and courage when facing adversity.
In art, plum blossoms are often depicted with fellow winter friends—pine and bamboo—to represent values of determination, honesty, and modesty. More than anything else, these plum flowers symbolize hope and a promise that spring is, indeed, right around the corner.
Peony
The rich and luxurious blooms of the peony have long justified its place as ruler of the flower kingdom. While it was first cultivated for its medicinal properties, members of the Sui and Tang dynasties adopted the flower in the imperial gardens for its exquisite beauty. During the Song Dynasty, cultivation of peonies spread throughout the country and the flower became a living symbol of nobility and flawless elegance. Also known as "the flower of wealth and honor" and "the king of flowers," the peony by any name smells just as sweet.
Lotus
In Chinese, the word for lotus is a homonym of the word for harmony, or he. The lotus rises out of murky waters to bloom in bright colors. The spread of Buddhism through China gave rise to artwork depicting Buddhas and Bodhisattvas sitting atop lotus petals, highlighting the flower's untarnished nature. Thus, lotus flowers became symbols of pure hearts and auspicious events. Their quiet growth amidst green leaves and still waters reflect a calm, ethereal beauty that transcends ordinary life.
Orchid
While Shen Yun has yet to dedicate a dance exclusively to the orchid, this flower makes an appearance in many Shen Yun pieces. One of the fundamental hand positions for female performers of classical Chinese dance is the lan hua zhang or "orchid hand." This gesture is formed by bending the middle finger and thumb at the base of the finger joint so that they meet in the center of the palm. Whether used by gentle maidens or celestial fairies, in Chinese dance, lan hua zhang is an ultimate expression of feminine grace.
Offstage, the Chinese philosopher Confucius likened the orchid to a virtuous gentleman. During a difficult time, Confucius encountered orchids in the forest, blooming fragrantly even with nobody to appreciate their scent. The orchids reminded him that the noble hold fast to what they believe in, regardless of what others might think.
***
Radiant in all their forms, in Chinese culture, flowers are paragons of beauty and morality, integrity and courage, purity and hope, enriching ancient Chinese society both inside and out.

May 8, 2013